When Should You Start Getting Prostate Checks?
Many men suffer from prostate problems at some point in their lives and prostate issues are very common, particularly in older men. There are various health issues that can occur ranging from an enlarged prostate through to prostate cancer. In order to reduce the risks of prostate problems, it is important to know when you should start getting your prostate check by a professional, experienced urologist.
When To Visit The Urologist
If you want to know when you should start visiting the urologist to have your prostate checked, here are some tips:
At a Certain Age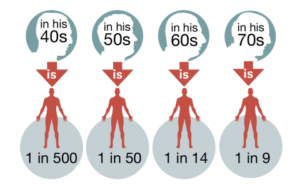 Problems with the prostate tend to be more common in men in their senior years or the latter part of middle-age. These problems are most common in men aged around 50 and over. However, this does not mean that they cannot strike at an earlier age. If you've been lucky enough to escape prostate problems up until the age of 50, you should definitely still visit a urologist to have checks carried out when you hit the age of 50. Of course, you can start getting it checked earlier than this if you want to be extra careful. However, once you are 50 you need to remember the heightened risks and, as such, go for regular checks.
If there is a Family History of Prostate Problems
If you have a family history of prostate problems, you may be at increased risk. You should, therefore, make sure you have regular checks in your 30s or 40sw upwards to reduce the risk of any problems arising. Make sure your doctor is aware of this family history so that he or she can provide advice and tips on getting your prostate checked. Many men do have a family history of prostate problems but they fail to go for regular checks, which then puts them at risk of developing issues that could otherwise have been avoided or tackled at an early stage.
When You Experienced Symptoms
Although prostate issues are more common in older men, they can strike at any age. You should, therefore, look out for symptoms of prostate problems. If you do notice any, you need to make an appointment to have your prostate checked. One of the common symptoms that could indicate a prostate issue is frequent urination.
Make an Appointment with the Best Urologist in Manhattan
If you would like to arrange a prostate checkup with an experienced professional, get in touch with the best urologist in Manhattan today.